Category Archives:
All Recipes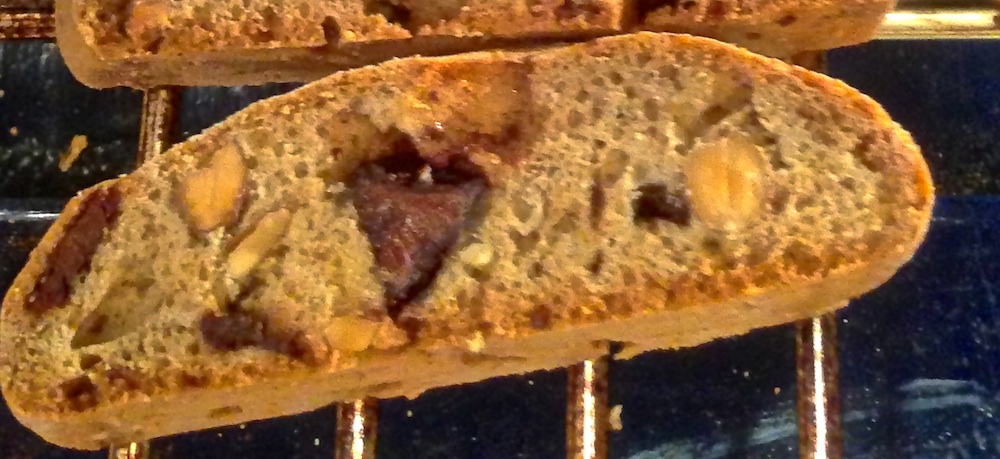 Perfect with a morning cup of coffee. Ahhhhh!

Omanhene Chocolate Chip Biscotti
Omanhene Chocolate Chip Biscotti Makes 50 to 60
Ingredients
2 cups all-purpose flour
½ tsp baking soda
¼ tsp kosher salt
2 extra-large eggs at room temperature
⅜ cup granulated sugar
⅜ cup brown sugar
1 tsp vanilla extract
½ cup chopped walnuts
⅔ cup Omanhene 48% Dark Milk Chocolate, coarsely chopped
Instructions
Preheat the oven to 300 degrees.
Line a baking sheet with parchment paper.
Place the flour, baking soda, and salt in a small bowl. Stir with a whisk to combine. Set aside.
In a medium mixing bowl, beat the eggs with sugars and vanilla until well combined. Beat in the flour just until combined. Stir in the nuts and chocolate chips. The consistency will be thick and sticky.
Use a large spoon and scoop batter onto baking sheet, dividing it evenly into 3 long loaves. Loaves should be 2 ½ apart and use back of the spoon to even up the edges.
Bake for 35 minutes. Remove from oven and cool loaves for 10 minutes on the pan.
Carefully peel the loaves fro the parchment paper and remove them a cutting board.
Use a sharp serrated knife to slice the loaves on the diagonal into ½ inch slices. Arrange the slices directly on an oven racks.
Bake for 20 to 25 minutes, or until the cookies are crisp and dry.
This is the companion recipe needed in order to complete the Omanhene Chocolate Orange Pôts de Crème.  A versatile, delicious chiffon cake recipe — every chef should have one.
Author:
Chef François Kwaku-Dongo
Prep time:
Cook time:
Total time:
This is the companion recipe to the Omanhene .
Ingredients
6 egg yolks
6 egg whites
1 teaspoon vanilla extract
⅓ cup warm water
⅓ cup vegetable oil
⅓ cup Omanhene Natural Cocoa Powder
¾ cup all purpose flour
1½ cups sugar
½ teaspoon baking powder
1 teaspoon salt
¾ cup sugar (reserve for topping)
Instructions
Preheat oven to 325 degrees Fahrenheit.
Spray a baking sheet pan with Pam and then line baking sheet with parchment paper -- the paper will stick to the sprayed pan.
Spray the top surface of the parchment paper.
Using a standing electric mixer fitted with a whisk attachment, very lightly whip the egg yolks, water and vegetable oil.
Sift all dry ingredients together and slowly add to the egg/oil mixture, mix for 5 minutes.
Gradually add the egg whites and sugar.
Spread the batter evenly over the prepared baking sheet, starting with the batter on one side and working your way down the sheet pan toward you. Lightly tap the underside of the sheet pan in order to distribute the batter.
Bake for 15-17 minutes.
Remove from oven and cool.
Once cooled, sprinkle with ¾ cup sugar and then wrap in plastic and refrigerate.