Steven's latest presentation, a Tedx talk in Accra, Ghana. April 2016.


---

"When he spoke, people listened. So it should not have surprised me when hundreds of students mobbed him afterwards. I heard them ask questions like, 'Why can't someone like HIM be our president?' … He is one of the rare persons with the personal integrity, commitment to community, and business know-how so essential to human life. And he tells a very important, compelling story. I couldn't have asked for anything more from a speaker, and I am so grateful to you for sharing so much of yourself with our students."
— Jane Gottlick, Ph.D., Academic Coordinator, World Affairs Seminar
---
Omanhene's founder is a captivating speaker and is available for school, club and civic events.
Steve has spoken to all ages from kindergarteners to MBA students (University of Chicago Graduate School of Business, University of Michigan Graduate School of Business, Northwestern, University of Wisconsin, Marquette University, Cardinal Stritch University, Concordia University).
Topics include Global Business, The Nature of Leadership in the 21st Century and, of course, Chocolate!
Speech inquiries? Please contact Omanhene founder Steven Wallace directly at [email protected] or by phone at 414-744-8780.
---
Additional testimonials:
"I couldn't have asked for anything more from a speaker, and I am so grateful to you for sharing so much of yourself with our students."
Nicole Mueller, Advisor, Nicolet High School Chapter of National Honor Society
"It's difficult to put into words how much it meant to the AFS Foundation to have you speak to the group last week!  You are so inspiring . . . To be honest, the evening fulfilled all the 'dreams' of the planning committee, and we were quite successful both in terms of the number attending and the money raised.  You provided a powerful message of what AFS can mean to an individual and to the world . . . "
Minna S., Event Chair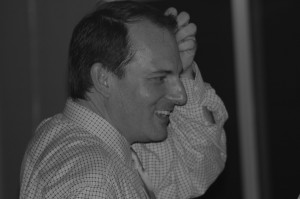 "Your story is a wonderful example of how just one person with determination and imagination can improve the lives of many, many others."
Rabbi D. A. Feingold
"We received extremely positive feedback from conference attendees . . . "
David Russell, Central Region Vice President and Heidi M. Cramb, Executive Director of Operations, American Culinary Federation
… you attracted quite a following … your ratings [were the] best of the lot."
Patsy Kumekawa, Co-founder, Scholar Search Associates
"You are hands down my favorite speaker of the semester…."
Fonte Grant, President, Collegiate Entrepreneurs' Organization at the University of Wisconsin-Milwaukee