I'm often asked if I still maintain contact with my AFS host family in Ghana. The answer is yes, but it can be difficult to connect even when I'm in Ghana for a period of a few weeks.
The truth is I actually had three wonderful, welcoming and extraordinarily generous families back in 1978. I had an orientation for a few short days in the university town of Legon and stayed with Prof. Ansre, his wife and his two sons. Prof. Ansre was a professor of languages at the University of Ghana. We had a small dog named Yuri Gagarin and a pet scorpion named Scorpio who lived in an empty coffee can in our bedroom.
After our orientation to Ghanaian culture and language, I was put on a State Transport Corporation bus for the 13 hour bus ride to Sunyani where I met the family whom I would stay with for the vast majority of time, the Brobbeys. Yao Brobbey, my host father was an entrepreneur though I don't think people used that term in 1978. He had a half-interest in an old Ford tractor that he leased to farmers, had an import license allowing him to bring foreign-made goods into Ghana and he ran a small store called the Littlewood Store that sold paraffin, kerosene, candles and matches (an incendiary inventory now that I think about it) but the sort of things that a family needed in a country where the electrical grid was unreliable. My host father was also chairman of the Brong-Ahafo United football (soccer) club — a club from the hinterlands that played in Ghana's premier league against teams from the large cities of Accra and Kumasi and that in this respect reminded me of my beloved Green Bay Packers though the soccer pitch had none of the nostalgia of Lambeau Field. It was a hardscrabble field, far more dirt than grass, and on game days police wielded bamboo canes to keep unruly fans in line.
Below is my host father and mother from Sunyani. I hope they are proud of what I've been able to accomplish.
At the very end of my stay, I was brought back to spend a few days in Accra — a chance to see the capital city — and undergo a pre-departure orientation before leaving for home. I was placed with the Natafgi family. My host father Shafik was Lebanese and my host mother Ethel was Ghanaian. With them, I was extremely fortunate to have a peek into the remarkable Lebanese community in Accra — part of the Lebanese diaspora that for many years constituted the enterprising commercial class in many West African countries. We had a coffee table with elephant feet for legs, maintained a small garden where we grew what were called garden eggs (eggplant!) and ate delicious Lebanese food, kibbe, felafal and sweetbreads, arranged beautifully on large brass trays.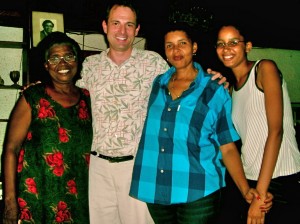 As was typical, Shafik was very protective of his four daughters Samira, Samia, Salimi and Maha and they were almost never permitted to go out. I had never grown up with sisters so living with a family of four girls was intoxicating — a world of demure giggling, whispered jokes and much good-natured teasing. I also became their excuse to go out. "We have to show Steve the beach!"  "We have to take Steve to the market!"  So it took no time at all for us to become close as siblings who've grown up together. Shafik, strict on the outside when it came to his girls, softened at their entreaties and along with my host brother Samir, we all went out and rejoiced in the exuberant freedom of being young, on our own, out on the town and with not nearly enough time to see it all.
To this day, I play a little trick on the Natafgis — I don't quite know why. I never tell them I'm coming to see them; never tell them I'm in Ghana for that matter. I simply arrive at the door and exult in the tears, laughing, scolding, hugging and kissing that awaits just behind the rusting red gate.